6.1 10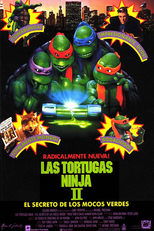 Las Tortugas Ninja II: El secreto del Ooze
¡Cowabunga, es la nueva pelicula de las tortugas ninja!
El malvado Shredder tiene un único y perverso plan: acabar con los cuatro superhéroes Tortugas Ninja Mutantes, Raphael, Leonardo, Michelangelo y Donatello. Para ello, secuestra al profesor Jordan Perry, creador del «Ooze» que hace posible la mutación de las Tortugas. Poco después, Shredder aplica la preciada sustancia a dos criaturas que acaba de reclutar, convitiéndolos en terribles e imponentes guerreros ninja que lucharán e intentarán terminar con los superhéroes. Sin embargo, éstos logran hacen frente al peligroso criminal, con la ayuda de su maestro Splinter, la elegante periodista April y el repartidor de pizzas Keno.
Las tortugas ninja 2: El secreto del Ooze | Teenage Mutant Ninja Turtles II: The Secret of the Ooze
Ver Colección de Las Tortugas Ninja II: El secreto del Ooze
Incluye los titulos: Las Tortugas Ninja III: Viaje al pasado,Las Tortugas Ninja II: El secreto del Ooze,Las Tortugas Ninja.
Director
Reparto
Hay otros ocultos